In Space No One Can Hear You Tweet
---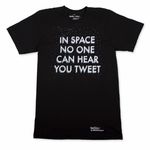 Not too long ago, I had tweeted, "In space, no one can hear you tweet." It was one of many tweets I made that evening within the same vein.
Little did I know at the time that the good folks at Threadless (an innovative web-based T-shirt company) would choose it to be among their new shirts being offered in their Twitter Tees by Threadless line debuting today.
You can see it among others in this new line up of shirts featuring selected tweets chosen by the team at Threadless. Check out my "In Space No One Can Hear You Tweet" shirt and others now on sale there. Click on the shirt on their site to see it being modeled.
The shirt is black with my tweet featured on the front (fully credited) amongst a star-field with the iconic Twitter bird made from a constellation of stars.
I thank the keen people at Threadless for selecting my tweet to be one of the few spearheading this new line.
Remember, in space, no one can hear you tweet. But if you want to hear or rather read my tweets, you can do so by following me on Twitter.
Also don't forget to check out others shirts being offered here through ATP such as the In Russell We Trust / In Moffat We Trust shirts and the Sonic Newsdriver and Hitchhiker's Guide to British Sci-Fi shirts and visit Gallifreyan Embassy for club and Doctor Who: Podshock shirts.